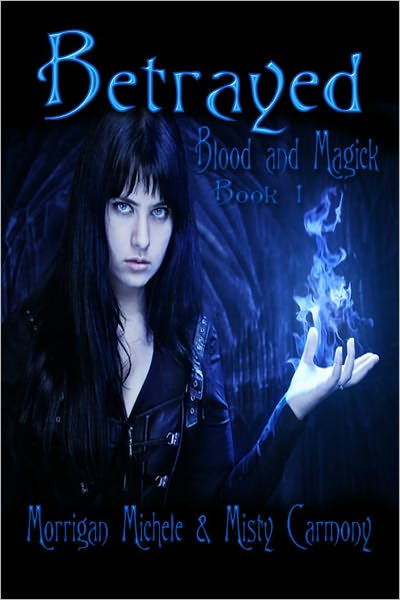 First I would like to say thank you to Lenmeo for having me here today! For those of you who don't know, my name is Morrigan Michele and I am one of the authors of Betrayed-Blood and Magick Series. My sister, Misty and I are a writing duo and we have always had a love for the paranormal. Anything to do with Vampires, Witches, Magick etc is what we live for! How did we get this wild idea to write a series? Well, we really were just sitting around one day and Misty asked me what I would think of the two of us writing our own series. Basically, after reading so many of everyone else's books we felt it was high time we wrote our own full of everything we wanted to read. Writing soon turned into a passion for us and I chose to make writing a career.
Anyhow, with Thanksgiving just around the corner Lenmeo suggested that I tell everyone some of the people I am most thankful for in my life-which was a brilliant idea! I am so very thankful for so many of the wonderful people in my life. I am truly blessed with a wonderful close knit circle of family and friends.My family and I are very close. I have two wonderful sisters named Misty and Stormie. I talked about Misty earlier, she is the co-author of our wonderful little series. I also have a beautiful daughter, the light of my life named Brianna who will soon be 12 (going on sixteen!) You mom's know what I am talking about ;-) Bless her heart, she blasts Taylor Swift songs constantly and most times the songs get stuck in my head for days! I cannot seem to get them out. The one person though that I am so thankful to have in my life this year is my wonderful and loving husband, Robert. He has been very inspirational and really is my rock. That guy you can depend on no matter what. I want to talk a little about him today.
It took a year to get Betrayed finished after we started writing it; mainly because Misty and I had so much going on in our lives that the book sort of ended up on the "back burner" for about 6 months. That is until I met my husband Robert in November of 2010. It wasn't until after meeting him that I really started writing again. Betrayed sat halfway finished in a spiral notebook for many months before that. He pushed me to start writing and to get serious about writing because he knew it was something I really wanted to do. Every day he would give me the extra push I needed to really sit down and write. It was nice because when Misty was too busy, I could bounce ideas off of Robert and he would help me think of other better ways to write what I was trying to say. If it wasn't for him, I don't think Betrayed would be where it is today. As a matter of fact he has since created my book trailers, and even the upcoming new cover that betrayed will be receiving soon! He has also done some cover art and book trailers for a few other authors with my publisher. Robert also helps me out on the marketing end of things by creating my blogs and websites and keeping up with things when I am swamped with my books. I don't know what I would do without him. He has really been a wonderful addition to my little family.
I have truly enjoyed being here today to talk with all of you and tell you a little about myself. Feel free to comment and ask me any questions you may have. I would also love for you all to comment on what you are most thankful for this year. Also, don't forget to check out Betrayed and be on the lookout for the new cover. Be sure to let me know what you think!
Ciao for now. I wish you and yours a wonderful and Blessed Thanksgiving!
We are giving away a copy of Betrayed! Just fill out the Rafflecopter form and be entered to win!