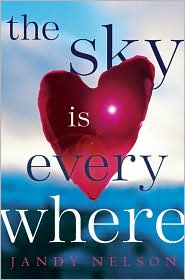 Purchased
Hardcover 276 pages
Published March 2010 by Dial Books
I give this

5+

stars.
This is the story of love. All things love. And a girl named Lennie whose travels down the long winding road we call grief only to discover that there is no end to grief, just . Her story leaves us holding back the tears until we can't take it any more.
Lennie Walker has just lost her older sister Bailey and takes us with her on her journey to find the light at the end of the tunnel. Her whole life she has been the shadow to her older sister who was beautiful and loved by everyone. Now that she is gone, Lennie has no one to shadow and is lost trying to cope with being in the limelight alone.
With Bailey gone, Lennie does the only thing the only thing that she knows how to do, she grieves. She grieves with her hippie grandmother, Gram, who has raised her and her sister since they were little, and her arborist uncle, Uncle Big, whose own life has been one big experiment to find love. She also grieves with Toby, Bailey's boyfriend. Out of everyone, Toby is the only one who truly understands the loss of Bailey as completely as Lennie does, so they grieve together, so closely together that their love for Bailey has transcended her death and has them bound to each other by secrets and temptation in order to find a way to keep her alive for them both.
Bailey always had the gift of beauty. Lennie's gift has always been her music. Whenever she feels any extreme emotion, she has always been able to escape into her music for temporary healing. This time though, her music is not enough to repair her broken spirit. She truly believes that nothing can, until she meets him. Joe Fontaine, the new boy at school who plays music brilliantly and who knows nothing about her dead sister Bailey. Joe
who's own musical skills help him to breakthrough to Lennie's heartbroken soul and repair the damage done to her heart by the death of her sister.
This is not a book for everyone, this book is only for those who can handle a stake through the heart. Jandy Nelson's lyrical writing style made this book an unbelievable read. I would love to be able to say that I sat and read through it in one sitting, but I cannot. The truth is that I was completely engulfed by Lennie's grief for her sister and I didn't, no, wouldn't let it be over within one sitting. I needed to keep her story with me as long as I could. I stretched this out for over a week, and even then I wished that it was longer. Lennie, Gram, Uncle Big, Toby and Joe held my heart in their story of recovery and love. I cried and I loved it. I would recommend this book to only those who can recover from roller coaster rides of emotion stirred up within themselves quickly. Otherwise, you could be like me and need two weeks to swallow what I just read before I could even think about picking up another book. I loved this book! I hope that it does the same for you.
Lenmeo
After The Book